~~~~~~~~~~~~~~~~~~

History


William Downs Farley was born in Laurens,S.C. on Dec. 19, 1835. He was the son of William R. and Phoebe Downs Farley. His father was a lawyer from Charlotte county, Virginia. His mother came from prominent families in Laurens county.
With the outbreak of the War Between the States, following South Carolina's secession from the union, young William joined the 1st Carolina Infantry Regiment as a private. It was not long before he was promoted to the rank of Lieutenant, serving under then Col. Maxcy Gregg. Farley fought at the first battle of Manassas, Va.
Farley earned the rank of Captain by the fall of 1861. He spent a brief time as a POW in Washington, before being released as part of a prisoner exchange. Due to his skills, bravery, and the fact that he preferred to fight the war in a solitary manner, he became the chief scout for J.E.B. Stuart's cavalry. It is obvious from the records how much General Stuart cared for Captain Farley. To quote one such report from Stuart," Mr. Farley is the man for it. His name is in this army synonymous with intrepidity, bravery, good judgement, and intelligence."
As the war progressed, Farley proved himself to be worthy of all accolades that could be bestowed upon him. He fought at 2nd Manassas, Malvern Hill, Sharpsburg, Fredericksburg, and on the Peninsula. He was known to have accepted no payment for his services, and to have provided his own equipment.
In June of 1863, while escorting a young lady to a formal ball hosted by General Stuart, Farley presented her with a coat that he had recently been given by Stuart. He is said to have told her that if anything were to happen to him, that he was to be wrapped in this new overcoat and sent back to Laurens to his mother.
Farley was mortally wounded on June 9th, 1863 while sitting astride his horse discussing orders with Colonel Butler at the battle of Brandy Station. He had been hit by a cannon ball, taking off his right leg. Prior to being removed from the battlefield, he is reported to have pointed at the severed leg and asked for it. It was given to him, and as he clutched it, he said " It is an old friend, gentlemen, and I do not wish to part from it" He died several hours later. Stuart wrote to his mother,"No nobler champion has fallen."
Due to the war activity, Captain Farley's remains were not sent home to Laurens as he desired. He was buried in the Dr. Charles Ashby family plot in Fairview cemetery, Culpeper ,Va. There is a small monument and park along Stevensburg road in Culpeper county to commemorate the battle and the spot where Farley was killed.
For many years, there has been an ongoing effort to bring Captain Farley's remains home to Laurens to rest with his loved ones. Attorney Ed Gentry of Culpeper has been a driving force in this endeavor. These efforts have finally born fruition. Several months ago, his gravesite was excavated by a team of archeologists from the Smithsonian.
On April 27, 2002, Captain William Downs Farley received the full military honors he deserved, (Southern Style), and was interred with his family in Laurens.
The Sons of Confederate Veterans, B/G Samuel McGowan Camp 40, Laurens, S.C. hosted the event.
*******************************************************************
On April 6, 2002, 30 South Carolinians made the trip to Culpeper, Va. and attended a ceremony held by the Virginians in honor of Captain Farley. The people of Virginia were very hospitable to us and we are extremely appreciative of their efforts. We returned to S.C. with his remains.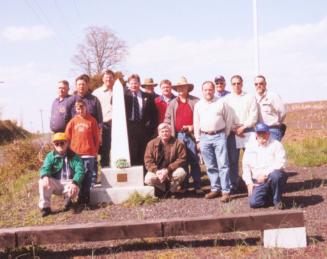 Farley monument outside Culpeper, Va. and the men from S.C. that brought his remains back to Laurens.
**********************************************************************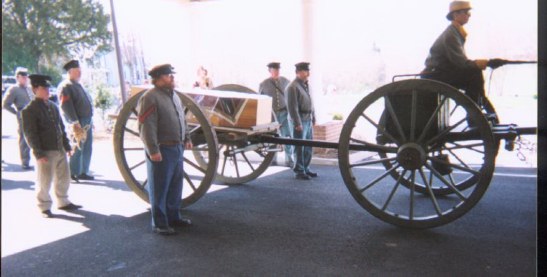 Part of the ceremony in Culpeper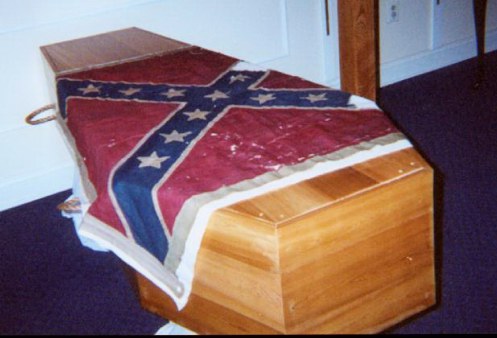 Farley's coffin covered with an authentic ANV flag in Culpeper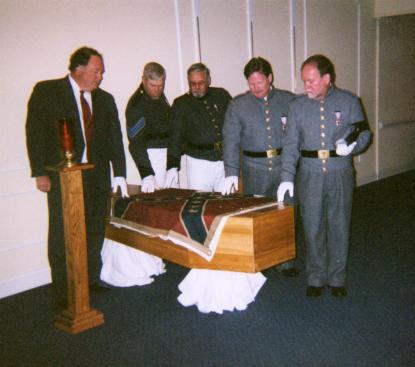 Ed Gentry with Honor Guard contingent from S.C.
*******************************************************************
A very welcome event occurred while we were in Culpeper. Due to a casual dinner conversation, one of our SCV Camp 40 members, Dever Ray Martin, found a long-lost relative's grave in the National Cemetery in Culpeper. He is the only Confederate interred there.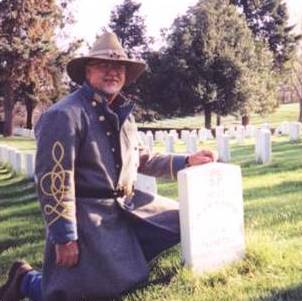 ************************************************************************